Please take a moment to contemplate your answer to the following question: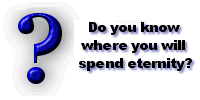 There are only two options, in the eternal presence of God in heaven, or in eternal separation from God in the lake of fire.
Most people believe they are going to heaven because they believe in God, they attend mass or church services, or they try to live a good life. But these people only hope that they will make it to heaven, they do not know. The Bible teaches that you can know that you have eternal life.
1 John 5:13
These things have I written unto you that believe on the name of the Son of God; that ye may know that ye have eternal life, and that ye may believe on the name of the Son of God.
But how can someone know if they have been good enough to get to heaven? The answer is that your eternal destiny has nothing to do with how good you are. In fact, the Bible teaches that no one is good enough to get to heaven.
Romans 3:10
As it is written, There is none righteous, no, not one:
Righteousness is defined as, "God's standard of perfection." According to the Bible, no man meets this standard.
Romans 3:23
For all have sinned, and come short of the glory of God;
Any disobedience toward God is sin. Whether you admit it or not, you know that you have sinned.
For instance, have you ever told a lie?
Then you have sinned.
(See Exodus 20:16)
As a child, were you ever disobedient to your parents?
Then you have sinned.
(See Deuteronomy 21:18-21)
It does not matter how good you are compared to your siblings, your friends, or other people. Since you are a sinner, you do not measure up to God's standard of perfection and are unworthy of heaven. In fact, your sinful nature will be judged by God.
The Bible says that Christ will be revealed from heaven with his angels:
2 Thessalonians 1:8,9
In flaming fire taking vengeance on them that know not God, and that obey not the gospel of our Lord Jesus Christ:
Who shall be punished with everlasting destruction from the presence of the Lord, and from the glory of his power;
This judgment is the payment which you owe for your sin:
Romans 6:23
For the wages of sin is death;
We all know that wages are something we earn. By our sin, we have earned death.
So you might be asking, "If everyone is a sinner, and sin is deserving of death, how does anyone get to heaven?"
I'm glad you asked that!
The second half of Romans 6:23 contains the answer to your question:
Romans 6:23
For the wages of sin is death; but the gift of God is eternal life through Jesus Christ our Lord.
This verse says that eternal life is a gift. Can you earn a gift? Do you have to do anything to get a gift?
Absolutely Not!

You see, eternal life cannot be earned, it must be accepted as a free gift.
Ephesians 2:8,9
For by grace are ye saved through faith; and that not of yourselves: it is the gift of God:
Not of works, lest any man should boast.
Titus 3:5
Not by works of righteousness which we have done, but according to his mercy he saved us, by the washing of regeneration, and renewing of the Holy Ghost;
Romans 4:5
But to him that worketh not, but believeth on him that justifieth the ungodly, his faith is counted for righteousness.
Faith is simply believing what God has said. God, being a loving Father, wants to have a relationship with you. Since you are separated from Him by your unrighteousness, he will count your faith for righteousness so that you can have a personal relationship with Him!
Philippians 3:9
And be found in him, not having mine own righteousness, which is of the law, but that which is through the faith of Christ, the righteousness which is of God by faith:
But how did God provide for this free gift of eternal life? And if eternal life is a free gift that I can receive, how do I receive it? If God will count my faith for righteousness, what do I need to have faith in?
Romans 5:8
But God commendeth his love toward us, in that, while we were yet sinners, Christ died for us.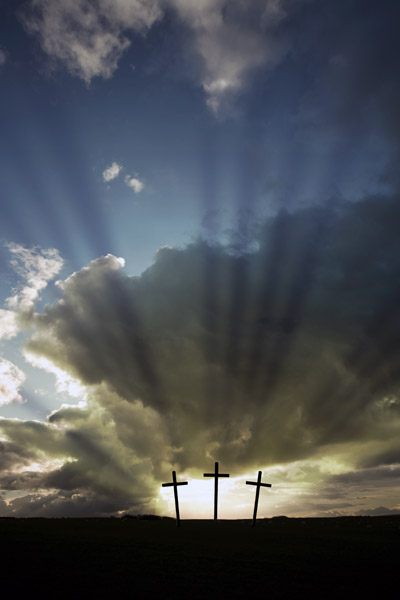 When the Bible says that "Christ died for us," it means that Jesus Christ died in our place. We saw earlier how the payment for sin is death. Christ has already paid that payment for you.
2 Corinthians 5:21
For he hath made him to be sin for us, who knew no sin; that we might be made the righteousness of God in him.
Jesus Christ "knew no sin." Since he was God, he never sinned. Since he was not a sinner, he did not owe the payment for sin, death. But he chose to die to pay your debt so that you could be "justified", or declared righteous, by God.
1 Corinthians 15:3,4
For I delivered unto you first of all that which I also received, how that Christ died for our sins according to the scriptures;
And that he was buried, and that he rose again the third day according to the scriptures:
Once again, these verses show that Christ did not die for his own sins, but for OUR sins. He didn't have any sin of his own to pay for, so he chose to pay for your sin. This is how God showed his love for us. He died for us so that we could have righteousness and eternal life as a free gift.
But that's not all. If He had only died, this would not have been enough. Not only did He die, but He also "rose again the third day according to the scriptures." Christ's resurrection purchased victory over death and proved that He was truly God. It is on the basis of Christ's resurrection that God can offer you newness of life.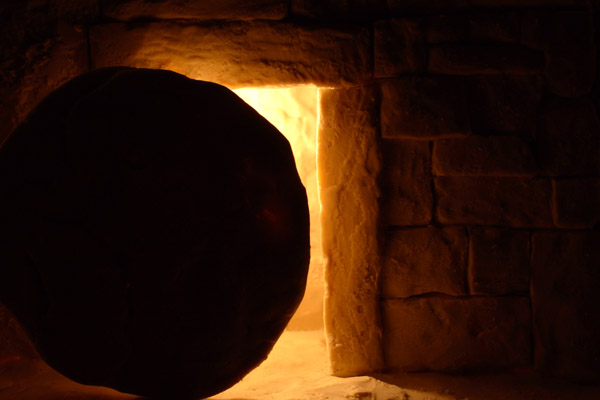 Romans 4:25
Who was delivered for our offences, and was raised again for our justification.
Romans 6:4
Therefore we are buried with him by baptism into death: that like as Christ was raised up from the dead by the glory of the Father, even so we also should walk in newness of life.
So how does one go about receiving this gift? The answer is very simple.
Ephesians 1:13
In whom ye also trusted, after that ye heard the word of truth, the gospel of your salvation: in whom also after that ye believed, ye were sealed with that holy Spirit of promise,
Hearing
Today, you have heard the gospel that Christ died for your sins and that salvation is a free gift.
Believing
Do you believe the gospel? Do you believe that you are a sinner and that you cannot earn salvation? Do you believe that because of your sin you are deserving of eternal judgment in the lake of fire? Do you believe that Jesus Christ gave his life for you so that you can have eternal life with him?
Trusting
Many people believe that Jesus Christ died. But many of these people are still trying to please God by their works. Trusting the gospel means that you have made the decision to rely completely on Christ's sacrifice on the cross as the full payment for your sins.
Won't you make that decision to trust him right now?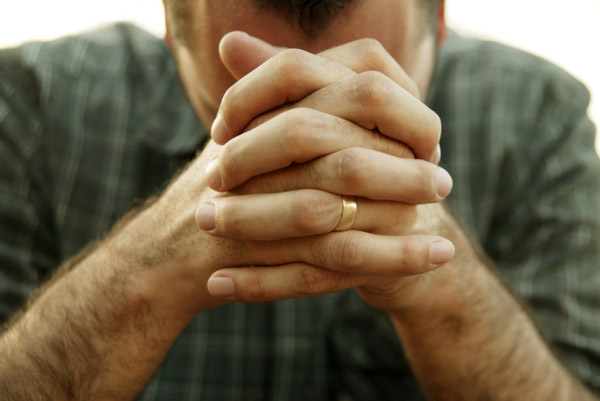 If you have made that decision, you may want to pray to God to thank him for the gift of eternal life that he has provided for you. But remember that you are saved by trusting in the gospel, not by saying a prayer. God is concerned with the condition of your heart, not some words that you recite. If you want to thank God for this gift, but aren't really sure how to pray to him, you can use the following as a guide.
Heavenly Father,I know that I am a sinner.
I know that, as a sinner, I deserve death.
And I know that I cannot earn eternal life or work my way to heaven.
But I believe that Your Son died for my sins on the cross and paid my debt so that I can have eternal life as a free gift.
I believe that He rose from the dead for my justification.
I have decided to trust in Christ as my Savior and receive that gift.
Thank you for dying for me and for your free gift of eternal life.

In Jesus' name,

Amen.
If you have placed your trust in the gospel, you are now eternally saved. Nothing can change that.
Romans 8:38,39
For I am persuaded, that neither death, nor life, nor angels, nor principalities, nor powers, nor things present, nor things to come,
Nor height, nor depth, nor any other creature, shall be able to separate us from the love of God, which is in Christ Jesus our Lord.
The Bible says that you are now sealed with the Holy Spirit and are a member of the Body of Christ. No one, not even you, can now separate you from God's love. You can now know, based on the Word of God, that you have eternal life. And since you didn't do anything to earn eternal life, you don't have to follow any list of rules and regulations to keep eternal life.
Let me repeat the question I asked you at the beginning:
Do you know where you will spend eternity?
Your answer can now be a resounding
YES!
If you were to die right now and God were to ask you, "Why should I let you into my heaven?" You can now say with confidence based on the authority of the Word of God, Because Christ died for my sins!
If you have made a decision to trust Christ, we would like to hear from you. You can call the Berean Bible Society at (262) 255-4750 or email us at berean@bereanbiblesociety.org.
You will find many materials on this website that will help you understand your Bible and comprehend all that you have been given in Christ!