Consistent Bible reading is a key to growing in Christ.  We are providing two different Bible reading plans to help you read through your Bible in one year. We recommend that you print out your desired plan using two-sided printing, fold it and use it as a bookmark in your Bible. Cross off each day's passages as you read them to keep track of your progress.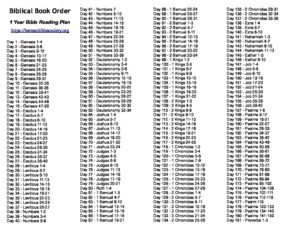 Biblical Book Order
Using this plan you will read the Bible straight through, from Genesis to Revelation, in one year at a rate of about 3 chapters per day.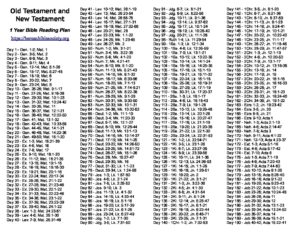 Old and New Testament
This plan includes a reading from the Old Testament and the New Testament each day. By including both Old and New Testament readings, some readers find it helps to avoid getting discouraged in some of the harder portions of the Old Testament.
Download Old and New Testament Plan
Related Files: